HS2® - High Health & Safety
Résumé
Engage in a societal approach thanks to the High Health & Safety label (HS2®).
What is HS2 Label ?
Qu'est-ce que
The HS2 certification process is voluntary. However, by adopting the HS2® approach, companies or local authorities can guarantee older people or those in vulnerable situations a product or service which enables them to carry on living at home for as long as possible and under the best conditions.
With an increasingly ageing population, the HS2® or High Health & Safety label aims to:
Help elderly and/or vulnerable persons stay in their homes by offering them support for as long as possible under the best conditions
Or organise their move to new or renovated housing which incorporates the HS2® standard.
| | |
| --- | --- |
| | HS2® certification meets the requirements of the 3rd pillar of sustainable development in a structured, gradual and collaborative way. It follows on from the HQE® (High Environmental Quality) label, which promotes a building's low environmental footprint. The HS2® Label focuses on  the person, their health and security, all within an appropriate living environment |
What does the HS2® label entail? 
The HS2 label entails fitting out old or new buildings as well as deploying connected services and all elements that can contribute to making life comfortable for the person and preserving their social ties. The HS2 approach will assess several criteria, such as:
Accessibility in living areas such as the kitchen or bathroom
Lighting designed to prevent falls at night
The installation of home automation
The installation of connected equipment (fall detector, automated actimetry devices, connected medical devices, etc.)
The presence of meeting spaces
The individual or collective services offered
The fitting-out work can allow ageing people to stay at home for an extra 3 to 6 years. 
The HS2® approach is used before a loss of autonomy and is an alternative to placement in residential care or a retirement home.
Who should attend HS2 Label
A qui s'adresse
All companies and organisations operating in the silver economy sector.
Within a local area, the HS2® approach makes it possible to create an ecosystem which includes the following:
Housing stakeholders (social landlords, property developers, individuals),Service providers
Healthcare providers
Local shops
Home care financing providers (Provident insurance groups, Insurers, Public subsidies, etc.).
Local authorities.
Who can receive HS2 certification?
Social landlords 
Property developers (construction of adapted housing)
Managed residence managers (Residences with services, Sheltered housing)
Service providers (moving assistance, caregivers assistance platform, renovation of bathrooms, concierge services, solidarity platforms, assistance in finding suitable housing, prevention of loss of autonomy, etc.) 
Home help and support services, Pharmacies offering dedicated advice, services such as pharmaceutical deliveries, telemedicine solutions, 
Tourism stakeholders
Local authorities (municipalities)
 
Periodicity
Périodicité
The HS2® (High Health & Safety) label is valid for 4 years, subject to conducting monitoring audits every 2 years and satisfactory results.
Renewal of the label requires a renewal audit which aims to confirm that all the criteria comply with the requirements of the HS2® Label. 
Complément de texte
Performance level
The HS2® standard is based on a system in stages. In fact, the HS2® certification approach has 4 intensity levels. The level of certification of the services and premises is materialised by obtaining from 1 to 4 solid circles. 4 being the optimal number of solid circles.
Because each stakeholder is unique, the HS2® approach adapts to managed residences. To provide you with a solution that best suits your needs, the HS2® label offers you the possibility of integrating the approach in tiers*.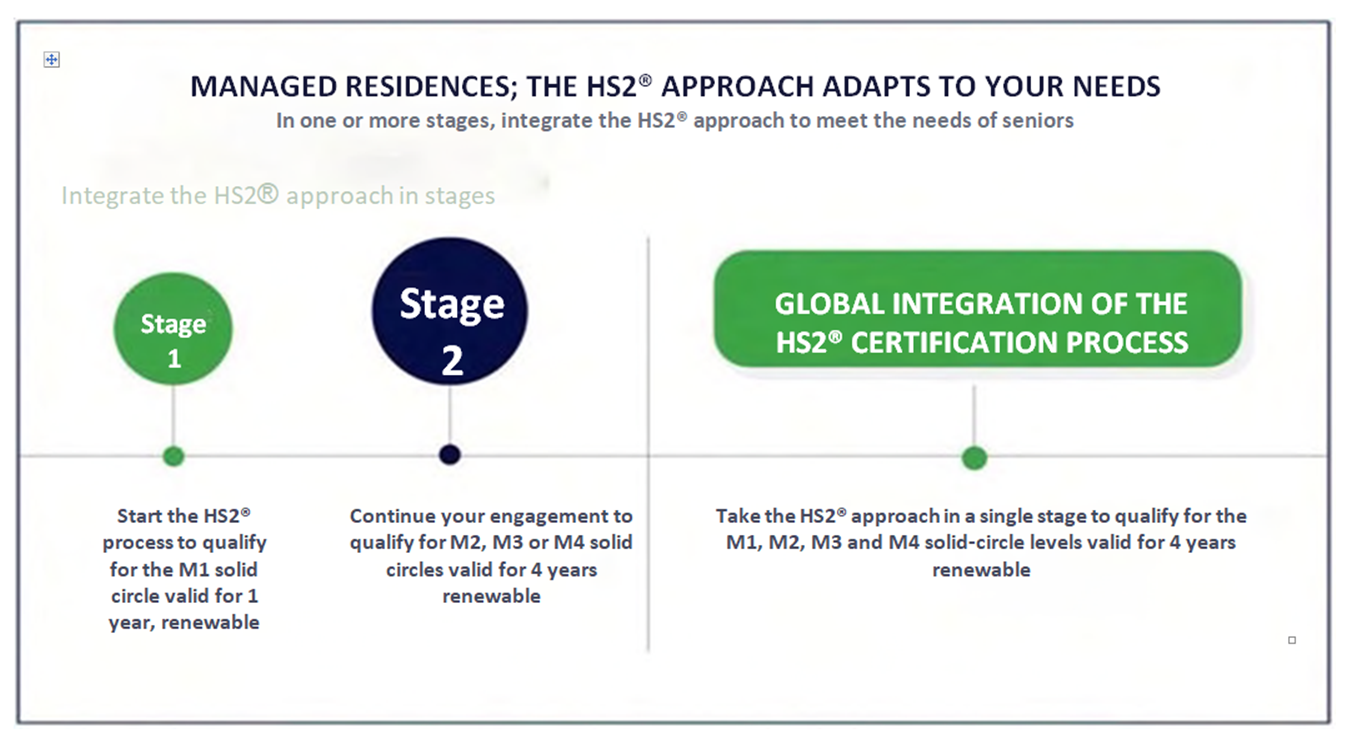 * Process reserved for managed residences only. 
The benefits of HS2 Label
Bénéfices de cette certification
The benefits for customers of the HS2® label and why choose this approach?
Choose to anticipate future regulations by engaging in a social, societal and collaborative quality approach
Stand out from competitors in a fast-growing market by meeting the expectations of seniors and vulnerable people
Join a network of partners with the same issues as you to increase visibility and increase your economic performance 
Work on your social engagement at your own pace, promote your brand image and your know-how with respect to your customers and partners in the senior citizens market.
Social landlords
The HS2® Label will enable you to adapt seniors' homes to enable them to stay and be supported at home for longer. It also promotes the fulfilment of seniors in their home as well as in their building, their neighbourhood and their town. Certification will enable you to offer, oversee and promote new services adapted to ageing. Finally, over the long term the label will allow you to reduce your vacancy rate because your supply will match demand.
THEY TALK ABOUT IT BETTER THAN WE: 
+ Testimony of Logévie (french version)
Pharmacies
Offer specific support to your senior patients.
Adapt your pharmacy to people in difficulty.
Differentiate yourself from competitors through a strong label, integrated into a territorial ecosystem.
Opt for a connected pharmacy.
Unite your team around a person-centred project.
Offer innovative services and equipment to preserve the health and safety of your senior patients.
THEY TALK ABOUT IT BETTER THAN WE:
+ Testimony of Pharmacie Giphar (french version)
Service providers
The HS2® Label will allow you to promote your service offering for ageing people to differentiate yourself from the competition, to integrate your activity into a person-centred ecosystem and to create partnerships with other HS2® players who are complementary to your activity, thus developing your business
THEY TALK ABOUT IT BETTER THAN WE:
+ Testimony of Alogia (french version)
+ Testimony of Tilia (french version)
+ Testimony of Bip Pop (french version)
Property developers
Among the advantages of HS2 certification for property players:
A housing offering adapted to loss of autonomy to present to your customers and investors.
A competitive advantage thanks to the Label (to be highlighted in calls for projects/competitions). 
Standards applicable to the fitting-out of housing units, common areas and services offered (meals delivery service, digital concierge service, etc.) once the property programme has been delivered.
Control of the costs associated with adapting housing for the elderly or vulnerable 
Integrating your property projects into a global environment that promotes better living at home.

Local authorities
The HS2® Label will demonstrate the determination of your local authority and highlight your efforts for seniors. Implementing your action plan promotes the emergence of an ecosystem (where landlords, pharmacists, home support services and service providers will share a common vision) which improves the living conditions of your constituents. Thanks to these new simple actions, your constituents will be able to live at home for longer and under the best possible conditions, staying and thus developing the economic activity of your municipality
You will also be able to limit the costs associated with adapting establishments and services and oversee subsidies for allowing people to stay in their homes.
Tourist industry players
Among the benefits of HS2® certification for tourist industry players are:
An improved occupancy rate thanks to a new category of customers: people in vulnerable situations. These people are often isolated because they are afraid to leave their homes.
A competitive advantage thanks to the label that highlights your efforts for customers whose health is fragile.
Limiting the costs associated with adapting your 
Insurers & provident funds
Offer your customers an HS2®-certified provident insurance product to combat loss of autonomy.
Have standards in place for fitting-out work to upgrade your customers' homes and for deploying home services.
Offer your customers a system that is interconnected with other companies' services.
Release the funds once the adaptation work has been completed based on the report of an independent trusted third party.
Integrate your projects into a global environment that promotes better living at home.

Inclusive housing
Inclusive housing is an alternative housing solution to living at home and living in an institution.
Inclusive housing is ordinary housing where the elderly can share common premises while benefiting from private living spaces; participate in the neighborhood's social life project; live near transportation and shops; request individualized social or medico-social support.
THEY TALK ABOUT IT BETTER THAN WE:
+ Testimony of Vivr'Alliance (french version)
Why choose Apave
Pourquoi choisir Apave
Apave Certification, the third-party recognition body of the Apave Group, is the only certification body for this label.
Apave Certification is one of the leading certification bodies in France. As a recognised and independent body, the Apave Certification group relies on a network of qualified auditors, both internal and external, across France and internationally.
Apave Certification works in the fields of voluntary professional certifications and regulatory and mandatory certifications.
Apave Certification's services are structured around 5 major focuses:
Management systems  
Certification of Skills 
Certification of Products
Services 
Labels / Assessments 
 
Steps and processes
Etapes et processus
To obtain the High Health & Safety label, Apave Certification follows you during the 6 steps leading to issuance of the HS2 label:
Application to Apave Certification 
Learning about the HS2 approach and its reference framework. At this stage, you can already inform your customers and partners about your status as an HS2® Participant
If you are a social landlord or property developer: An audit of the drawings if you have a new-build project
If you are a service provider, pharmacy or home support service: You carry out your self-assessment based on the criteria in the reference framework, draw up your action plan to reach the required level and implement your action plan. .
Conduct of the initial labelling certification audit carried out by Apave Certification (6 months after delivery of a new-build project or within 3 months of your participation, for a service provider, pharmacy or home support service) 
Issuance of the HS2® label, subject to the results of the initial audit / you can now communicate about your HS2® Label status
Conduct of a follow-up audit 2 years after the initial certification. / you can communicate about keeping your HS2® certification subject to the results of the follow-up audit
 
You want to get
more information on our certifications ?
Apave Certification's strengths
Apave Certification's services are based on 5 major areas: Management systems Skills certification (DPO...) Product certification (CB Scheme...) Services (Qualiopi) Labels / Evaluations (HS2...)
Independent third party
Apave Certification is a recognized and independent certification body specialized in certification engineering.
Reactivity 
Apave Certification works quickly, throughout France and internationally, and keeps deadlines under control.
Proximity
Apave Certification relies on a large geographical network of qualified internal and external auditors, both nationally and internationally.
Flexibility
Apave Certification is a flexible structure with a customer-oriented approach, which is involved in both voluntary professional certifications and regulatory and mandatory certifications.
Notoriety
Apave Certification, a subsidiary of the Apave group, benefits from solid expertise based on extensive customer feedback over more than 150 years.
Recognitions and accreditations
Apave Certification holds numerous accreditations and recognitions, guaranteeing our quality and technical systems and proving our competence, know-how and independence.
Toolkits and useful links
Your questions
Below you will find the most frequently asked questions. If you cannot find the answer to your question, please contact us!
The actors of the Silver Economy are concerned by the HS2 label: Social landlords, Promoters, Pharmacies, SAAD, Territorial Collectivity, Service providers, etc.
The cost depends on the actor concerned and varies according to various parameters such as: the number of residences concerned, the number of dwellings, the actor concerned, the number of entities included in the perimeter.