What is the "Attracti'Cité label" ?
Qu'est-ce que
The "Attracti'Cité label" is a unique label that qualifies the attractiveness of a territory. It is indexed on an innovative tool that gives public inter-municipal cooperation establishments (EPCI) an attractiveness score based on data science.
150 weighted indicators, verified by experts, that allow each territory to identify their strong points and areas for improvement, enabling them to have a better understanding of their own territory and to produce a differentiating and effective communication to makes themselves known.
The label also evaluates the scores by area of attractiveness: quality of life, economy and tourism.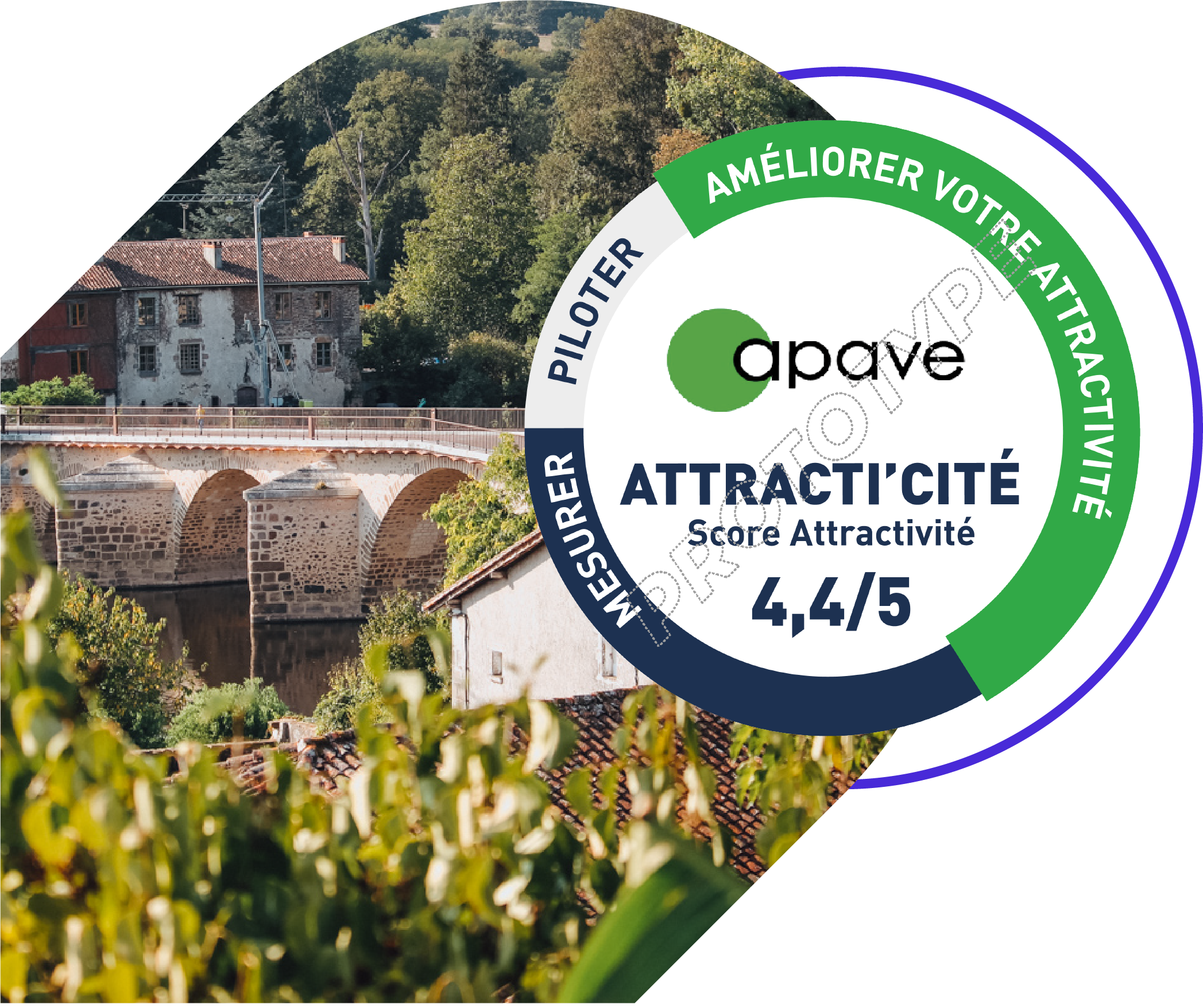 Objectives:
To provide territories with real time updated attractiveness indicators.
To optimise decision-making by elected representatives and the satisfaction of public players and stakeholders of the local economy within a territory.
To measure the impact of different actions on the territory.
To help set up and manage a development strategy.
Who should attend the "Attracti'Cité label"
A qui s'adresse
The 1231 public establishments of inter-municipal cooperation that wish to promote the actions implemented in their territory by displaying their attractiveness score.
The characteristics
Les caractéristiques
Characteristics of the "Attracti'Cité label"
The "Attracti'Cité label" promotes the attractiveness of a territory.
The label is based on the attractiveness score obtained by the PEIC via the "Le Cadran" tool (150 criteria of the Le Cadran reference system).
The label is represented by a colour code defined according to the PEIC's ranking.
Red: lowest attractiveness score      
Dark green: highest attractiveness score
The benefits of the "Attracti'Cité label"
Bénéfices de cette certification
Apave Certification, the Apave Group's third-party recognition body, is the sole certification body for the "Attracti'Cité label".
Obtaining this label allows you to :
Visually communicate with various stakeholders by displaying your attractiveness score.
Promote the development actions implemented in your territories. 
Gain confidence and credibility among local residents and economic stakeholders, thanks to the objectivity of an attractiveness score granted by an independent third party.
Attest to the impartiality of the data processed in the attribution of a score by "Le Cadran"
Steps and processes
Etapes et processus
The labelling process and requirements for obtaining the label
The Attracti'Cité label is awarded for a period of 1 year. At the end of this period, it may be renewed at the request of the PEIC. 
A PEIC may update its label in real time as many times as it wishes during this period to highlight the actions it has implemented in order to increase its attractiveness score (subject to an additional fee).
Prerequisites for obtaining the label : 
The label is aimed at public establishments of inter-municipal cooperation that have valid access to the "Le Cadran" tool.
You want to get
more information on our certifications ?
Apave Certification's strengths
Apave Certification's services are based on 5 major areas: Management systems Skills certification (DPO...) Product certification (CB Scheme...) Services (Qualiopi) Labels / Evaluations (HS2...)
Independent third party
Apave Certification is a recognized and independent certification body specialized in certification engineering.
Reactivity 
Apave Certification works quickly, throughout France and internationally, and keeps deadlines under control.
Proximity
Apave Certification relies on a large geographical network of qualified internal and external auditors, both nationally and internationally.
Flexibility
Apave Certification is a flexible structure with a customer-oriented approach, which is involved in both voluntary professional certifications and regulatory and mandatory certifications.
Notoriety
Apave Certification, a subsidiary of the Apave group, benefits from solid expertise based on extensive customer feedback over more than 150 years.
Recognitions and accreditations
Apave Certification holds numerous accreditations and recognitions, guaranteeing our quality and technical systems and proving our competence, know-how and independence.
Toolkits and useful links