Resumption of Label Awards for HS2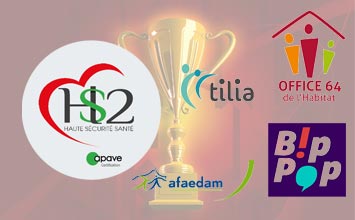 After a blank year last year, the first official HS2 awards were launched on 8 June 2021 at Canopy. This launch event paved the way for the other HS2 label awards planned during the summer. We look back on these moments of conviviality and sharing of innovative concepts in senior housing.

Calendar of the 2021 label awards :
June 8: Bip Pop and Tilia
22 June: Papy Happy
July 13: AFAEDAM
September: Pharmacie Flotté
28- 30 September: Eneal, Noalis, Norevie, Logiseine
The HS2® label in a few words :
The HS2® label, High Health Security, aims to encourage the maintenance of frail people at home or their reception in new or renovated housing integrating this standard. HS2® is in line with the HQE® (High Environmental Quality) which aims to enhance the environmental footprint of a building, whereas HS2® aims to enhance the person, his or her health and safety, all in an appropriate living environment.
Discover the Label ceremony of Bip pop and Tilia on June 8th, two innovative projects for home care