Attracti'Cité, or how to promote the attractiveness of your territories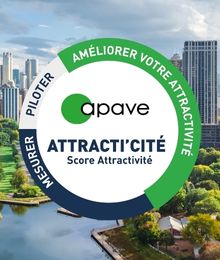 What if the 75% of companies still active after 5 years in your city, became a seduction factor for the economic development of your territory? 
What if 30% of the area dedicated to forests or the preservation of green spaces became a powerful argument to attract tourists?
What if the strength of your businesses became the reason for the well-being of the future inhabitants of your municipality?
Did you know that there is a Label that allows you to measure the attractiveness of your territory and promote it to future residents/tourists? 
Nothing is more reassuring than the Atrracti'cité Label issued by Apave Certification! 
Attracti'Cité what is it exactly?
With more than 3,500 municipalities in France, standing out is a major challenge. Being an attractive, welcoming city, offering a wide range of shops, services, jobs and putting its dynamism to the benefit of its inhabitants, can only make you stand out.
Combining DataScience and real-time territorial marketing, the Attracti'Cité Label allows you to:
• Accredit all the processes of attractiveness of your territory.
• Promote all the actors from all factors, economy, tourism and residential stakeholders.
• Give sense to the scores and communicate more easily on the different areas of attractiveness of your territory: economy, tourism and living environment. 
With 4 Label typologies with rating going up to 5 valid for 1 year,  get started now and get into the virtuous approach of the Label Attracti'Cité.
150 indicators verified by experts allow you to identify the strengths and the axes of improvement of each territory in order to produce a unique effective communication.  
How do you attract companies? 
Taking into account the indicators available, economic scoring consists of a range of elements that promote or not the attractiveness of your territory. 
The Attracti'Cité Label scoring system is based on the health of companies. What is the percentage of new businesses established in your territory? How many jobs have they created? How many companies are still active 5 years after their creation? Is your municipality accessible by public transport?  
Other factors such as the evolution of GDP per capita or the number of university students make it possible to rate each territory. 
How do you attract tourists? 
In general, the weather, location or landscape of your territory can be real advantages to attract tourists. 
But if you don't benefit from white sand beaches or green mountains, other factors are measured and promoted thanks to the Attracti-Cité Label. 
Tourist activities such as sports facilities (equestrian centers, skate tracks, bowling alleys, etc.) or tourist activities such as museums, restaurants and bars or the multitude of accommodations such as hotels or campsites are also assets which attract tourists. 
How do you attract residents? 
While the quality of housing and real estate prices are obvious factors, the attractiveness rating is also based on criteria that measure well-being in a municipality or agglomeration. 
The multiplication of businesses and their type is measured. An attractive town must have shops for food, fashion but also goods of all kinds. 
Another important criteria is access to medical care. The number of general practitioners or dental surgeons determines the final score. 
Before settling in a new city, one of the priorities of the French is security, a criteria also taken into account in the measure of attractiveness. 
The scores on which the Attracti'Cité Label issued by Apave Certification is based allow all French territories to measure their attractiveness on all levels. They give them the opportunity to get information on factors that are difficult to measure and to apprehend their territories better . An infallible way to value their assets.