ACCREDITED BY COFRAC TO DELIVER QUALIOPI CERTIFICATION

Apave Certification is accredited by COFRAC to deliver the Qualiopi service certification. Accreditation no. 5-0587 - scope available on the website www.cofrac.fr.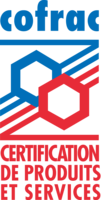 What is the purpose of an accreditation?
Accreditation is a rigorous process that is regularly renewed by COFRAC (COmité FRançais d'ACcréditation) to ensure that the quality of the services provided by the certification body is maintained over time.
Accreditation follows an audit at Apave Certification's headquarters and the observation of audits at our clients' sites.
The accreditation confirms the conformity of the certifications issued by Apave Certification.
I have already obtained my Qualiopi certification, what does it change for me?
No change, the certificates already issued will be re-issued with the Cofrac logo, allowing you to be reassured of the quality of the service you have received. For certificates issued before 31/12/2020, your certificate will be re-issued with a validity period extended to 4 years instead of 3.
_______________________________________________
The news concerning the Qualiopi certification (the certification of the quality of training providers) keeps coming out, it is sometimes difficult to find your way around.
Let's have a look at the latest elements:
19/08/2020 : Apave Certification accredited by COFRAC to deliver Qualiopi certification.
22/07/2020 : Publication of a post-covid decree that stipulates that training organizations certified before December 31, 2020 will have the validity of their certificate extended by one year. Validity of 4 years instead of 3 years.
01/04/2020 : Publication of the order relating to the one-year postponement following the COVID-19 pandemic. Qualiopi certification becomes mandatory on January 1st 2022, instead of January 1st 2021.
More information :